Counter
Counter allows to count a discrete number of elements using the help of your iPhone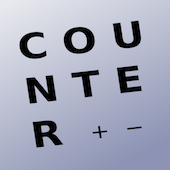 Counter allows to count a discrete number of elements using the help of your iPhone or iPad to avoid any error. Counter is a must when having the right result is mandatory and your fingers are not enough.
Counter screenshots on iPhone - click image to zoom
Counter screenshots on iPad - click image to zoom
EASY TO USE
To count element simply touch the +1 button at any occurrence
If a precise result is mandatory, you can set to have a confirmation request before adding +1 to the total
You can also subtracts elements
Counter adapts to the size and orientation of your devices from the smallest iPhone to the larger iPad
Reset to 0 at any time
Solves any kind of situation where you have to enumerate a total number of elements (physical of abstract) and you want to be sure the process will be error free.
Simply and effective
We use only Apple native technology to create iOS apps because we love the Apple platform and and we love pure true iOS apps.
FEATURES
Displays the totals in clear big size font
Optional minus button
Optional confirmation request of any add and subtract or reset operation
Optional audio feedback for any unit you add (so you are sure you accomplished the addition when you want to do it).
Keeps the value counted over relaunch until you decide to reset it.
Gives you confidence you didn't make mistakes in counting any kind of discrete elements (specially when counting them exactly is mandatory).
MacOS equivalent application available in the Mac App Store
Want to know more details about Counter?
For general purpose questions about our product can be also useful to visit the
Tension Software Generic FAQ
section.
To know what's new from the previous releases visit the
Counter Releases
page.
ALL THE POWER OF iOS
Requires iOS 10 or successive
Optimized for iOS 15
Works both for any iPhone and any iPAD, any screen size
Optimized for the latest generation iOS devices
To know what's new from the previous releases
CLICK HERE
Counter
Rel 1.1.2 (Aug. 22, 2022) - 940 KB
Requires: iOS 10

To know what's new from
the previous releases
CLICK HERE

If you want to know more about how buying works, visit the Buy section of our site